I have a friend the experts in SNS and Internet information transmission.
I consulted her how to get a good view of this site.
Then she advised me to make a big change.
I followed it and evolved a cat.
And something good will happen overnight.
I feel happy.
* * *
If you have some massage, please access here.
And I began Tik Tok too.
Please check it.
* * *
Please click below button.
にほんブログ村
I have
my Facebook page
too.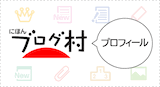 Thanks for your reading to the end.
From Shiori Takanashi